Obituary for Thomas D Malong Jr.
To the average person, Tom Malong was an ordinary man living a simple and quiet life. But to those who knew him he was a devoted husband, protective father and family man, proud grandfather and jovial friend. He loved to debate politics, watch old westerns, eat Filipino food and play mahjong. He had a gift for storytelling and he never stopped smiling, even towards the nurses and doctors who tended to him. After a difficult fight with COPD, pneumonia and congestive heart failure, Tom passed away peacefully on Friday, February 15, 2019 at 11:48pm.
Thomas Dominado Malong, Jr. was born in Lucena City, Quezon Province, the Philippines on May 18, 1932. He was the second of five children of Tomas Malong and Remiagia Dominado Malong. He grew up under the shadow of World War II with his childhood spent on his family's farm riding a water buffalo and being an errand boy for soldiers during the Japanese occupation of the islands. As a young man he served military time as a communications officer in the Philippine Navy, and he was part of the security team protecting dignitaries and politicians. When he was in the Navy he met his future wife, Liwayway while she was waiting for a jeepney to take her to the hospital where she worked as nurse. They married in 1962 and he became part of her large and gregarious family. During the tumultuous political scene of Ferdinand Marcos' presidency in the early 1970's, Tom took a leap of faith and emigrated his family to the United States.
They settled in Chapel Hill, North Carolina. In this new life, Tom became fiercely loyal to his adopted hometown and its university. He was an avid UNC Tarheels fan, especially the basketball team. He was a faithful member of St. Thomas More parish. And he was part of a core group of Filipino families who became lifelong friends. They did everything together – vacation and fish at the beach, celebrate birthdays and religious holidays, and play mahjong into the early hours of the morning. During these years, Tom worked as an accountant for the University of North Carolina Hospital, Blue Cross Blue Shield and Duke University from which he retired in 1997.
Tom and Liwayway moved across the country to Folsom, California in 2007. With family in Folsom and San Francisco, Tom continued to enjoy his retirement as "Lolo" to four grandchildren and travelled as his health permitted. He was fond of fishing for crab off the Pacifica Pier, attending his granddaughters' dance recitals and using Facetime to communicate with family. He thought his iPhone was the greatest thing since sliced bread although he still used an old-fashioned manual typewriter from time to time. And he was very grateful to be able to live a full life surrounded by loved ones with freedom and security.
Tom is and will always be much loved by his family. He is survived by his devoted wife, Liwayway Garcia Malong of Folsom; younger sister Gloria Malong in the Philippines; daughter Lynette Mailman, son-in-law Karl Mailman and granddaughters Karalyn and Rachel of Folsom; son Ted Malong, daughter-in-law Audrey Malong, grandson Takeo and granddaughter Keilani of San Francisco; son Thomas Bryan Malong of San Francisco; and family members in Chicago, IL, Portland, OR, Philadelphia, PA, Seattle, WA and in the Philippines. In lieu of flowers, please consider making a donation to the American Heart Association in honor of Thomas. Peace be with you.
To send flowers or a remembrance gift to the family of Thomas D Malong Jr., please visit our Tribute Store.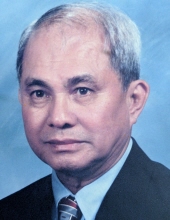 Thank you for sharing your
memory of Thomas
Provide comfort by sending fresh
flowers from our local florist.
No thanks, please don't show me this again.